Tying Hearts Amidst Tuscan Beauty: Marju and Urmas' Villa Le Fontanelle Wedding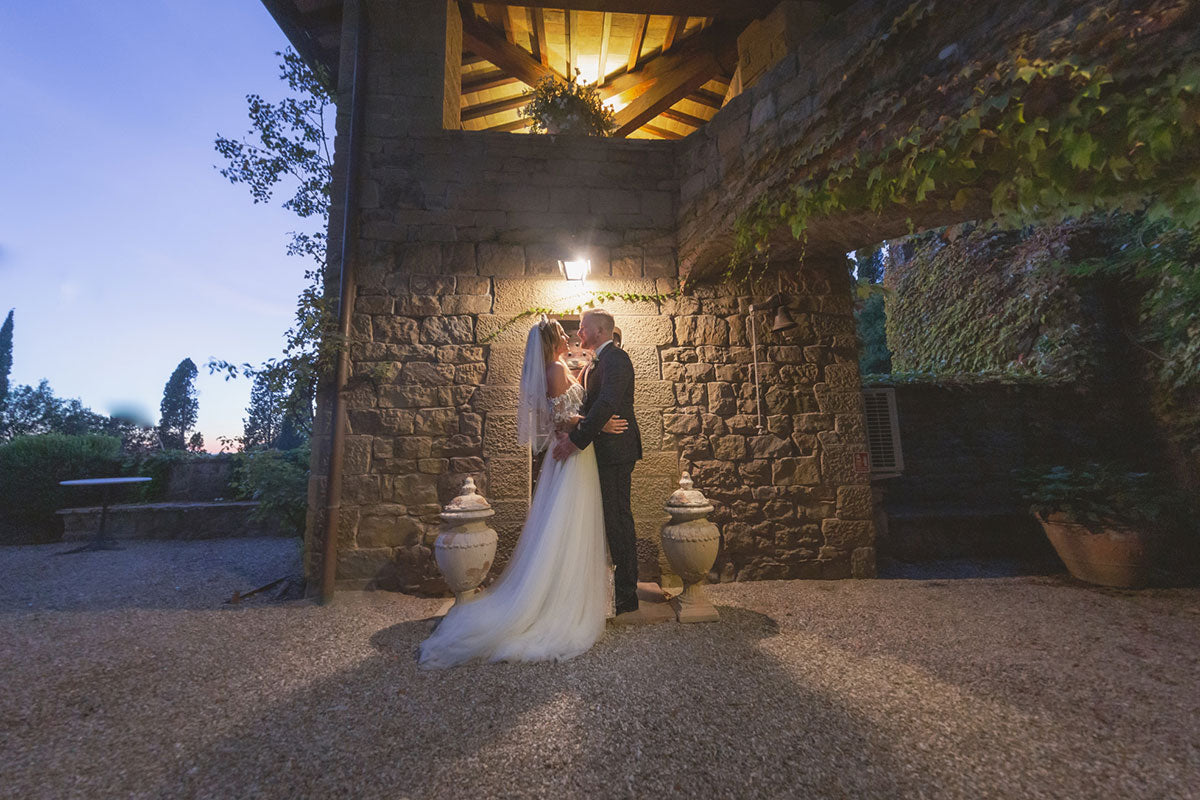 Nestled on a hillside near Florence, Villa Le Fontanelle is a truly remarkable setting for Marju and Urmas' marriage. With its intriguing architecture and rich history, this venue boasts a charming chapel and an expansive garden with ancient trees and terraces, offering breathtaking views of Tuscany's splendid landscape.
Months of meticulous work in our Parisian atelier led up to this momentous occasion. The bride, her little princess, mother, and best friend all sought to shine radiantly on this most important day.
A Dream Wedding Dress, Versatile in Style
The concept of Marju's wedding gown struck a chord with her heart, captivating her senses. This gown was designed to be worn in multiple ways. The voluminous tulle skirt, created to accompany the dress, added romance while allowing hints of lace to peek from beneath. The skirt designed for the ceremony could be cast aside as the evening progressed, allowing the bride to dance with a transformed elegance.

Crafted from creamy handmade lace, the corset dress underwent several fittings to ensure the perfect fit. A harmonizing veil was tailored to complete the ensemble.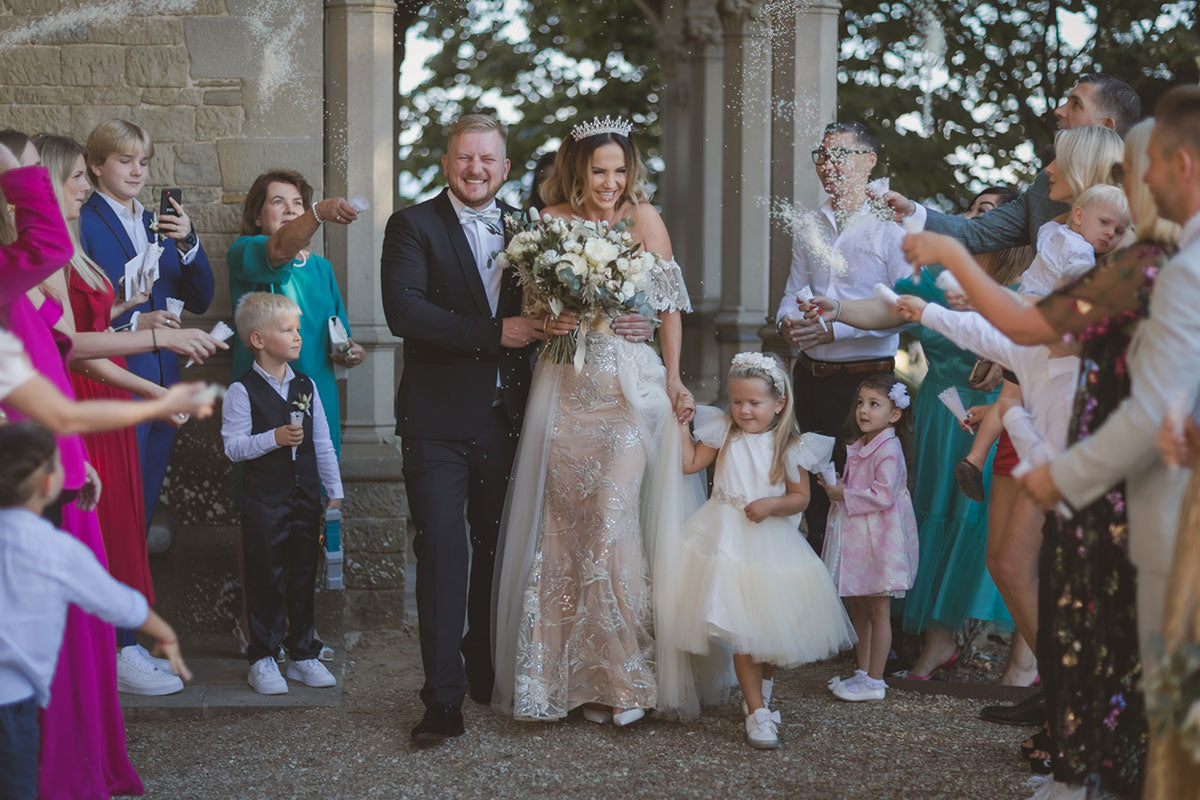 Lancio del Riso - An Italian Wedding Tradition Symbolizing Fertility
After the wedding ceremony in the chapel, the newlyweds were greeted by joyful cheers and a shower of rice from the guests - a time-honored Italian tradition symbolizing abundance and fertility. Hand in hand with the joyful queen, the little princess also radiates. She wore a tulle dress adorned with delicate embroidery and a flower-adorned tiara, both crafted in our atelier. A charming bow graces the back of her princess dress.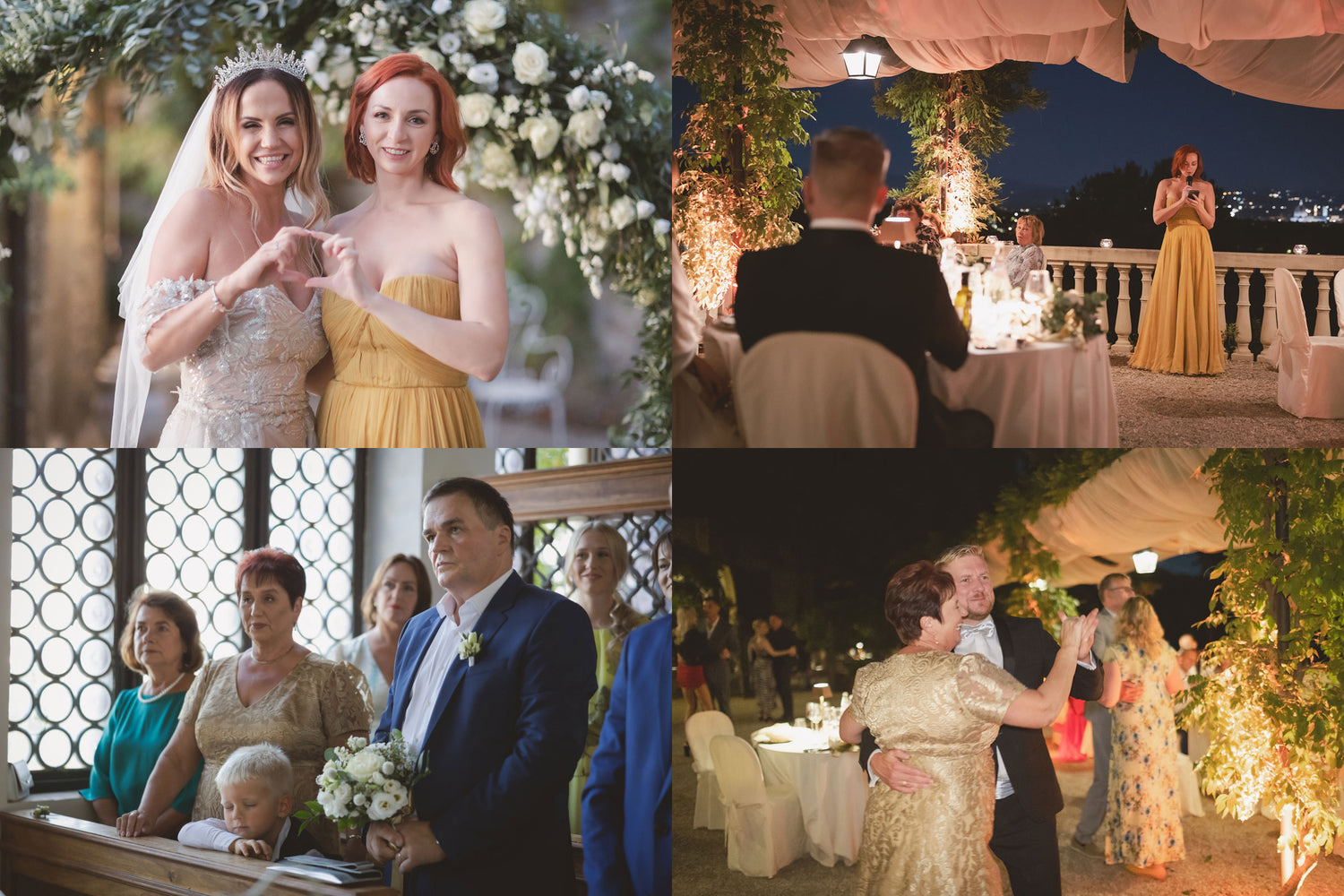 Shining in Our Dresses: Marju's Best Friend Kristel and Mother Malle
Among the guests, Marju's best friend Kristel shines in a flowing silk chiffon dress with a playful draped skirt. The bride's mother, Malle, radiates elegance in an exquisite brocade evening gown. Both dresses were tailor-made and underwent fittings in our Tallinn atelier.