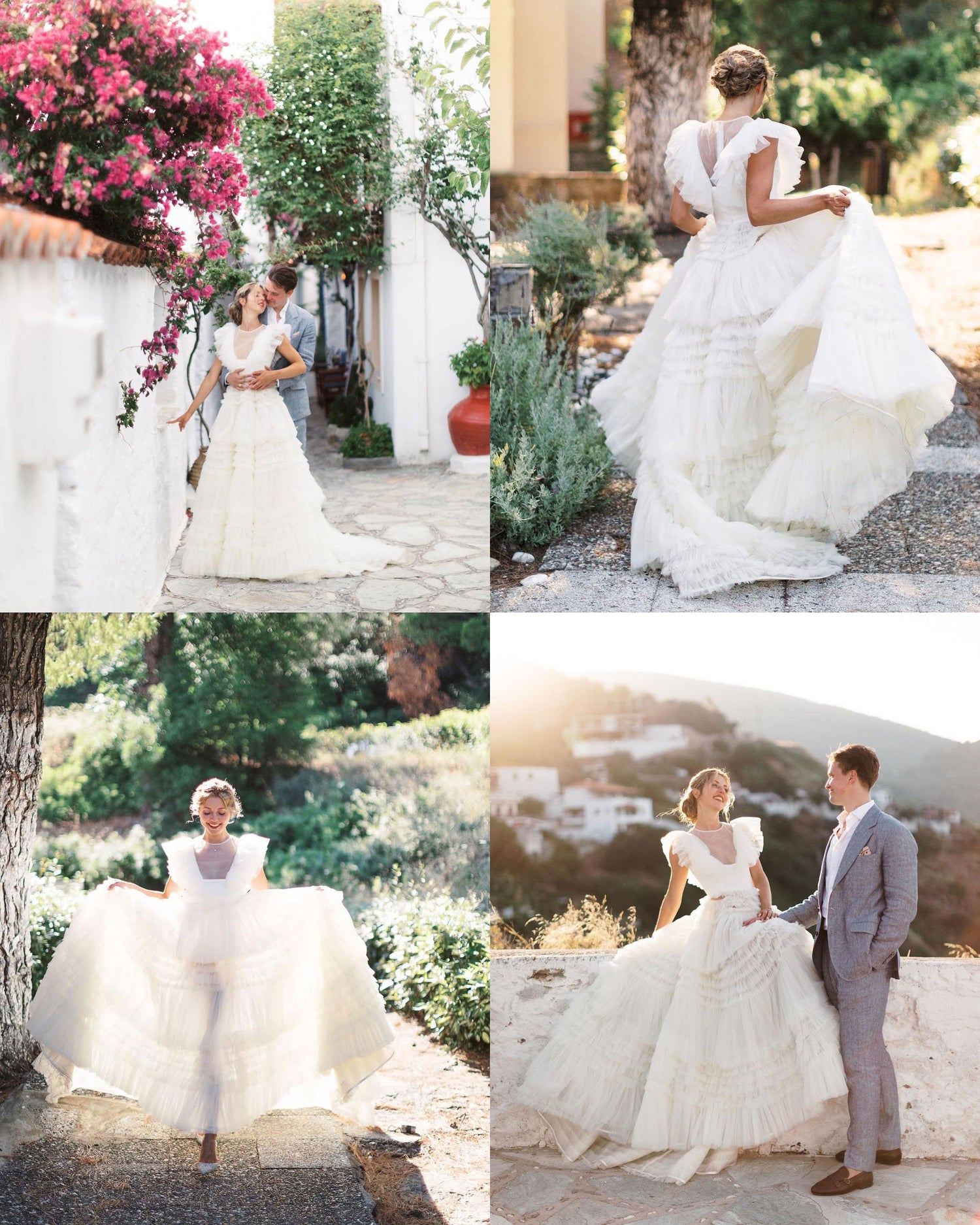 The Perfect Gown for a Wedding at Greek Island Skopelos
Jeva elegantly tied the knot on the enchanting island of Skopelos, Greece, adorned in the dress of her dreams from our 2020 collection. The ethereal and dramatic 'La Reina del Sur' tulle gown proved to be the perfect match for her chosen wedding venue. Amidst the romantic scenery, it exuded sheer beauty and elegantly complemented her graceful figure.

Crafted from countless meters of tulle, as soft and gentle as a summer breeze, this wedding gown showcases layers upon layers meticulously sewn together. The result is an exhilarating display of frills and fluff, exuding an air of excitement and charm.

One-of-a-kind wedding dress

This bridal gown stands as a unique masterpiece, ensuring that no duplicate will ever be created. Just envision the wondrous sensation of tying the knot on a dreamy island, embraced by the love of your life, adorned in a dress as exceptional as your love story.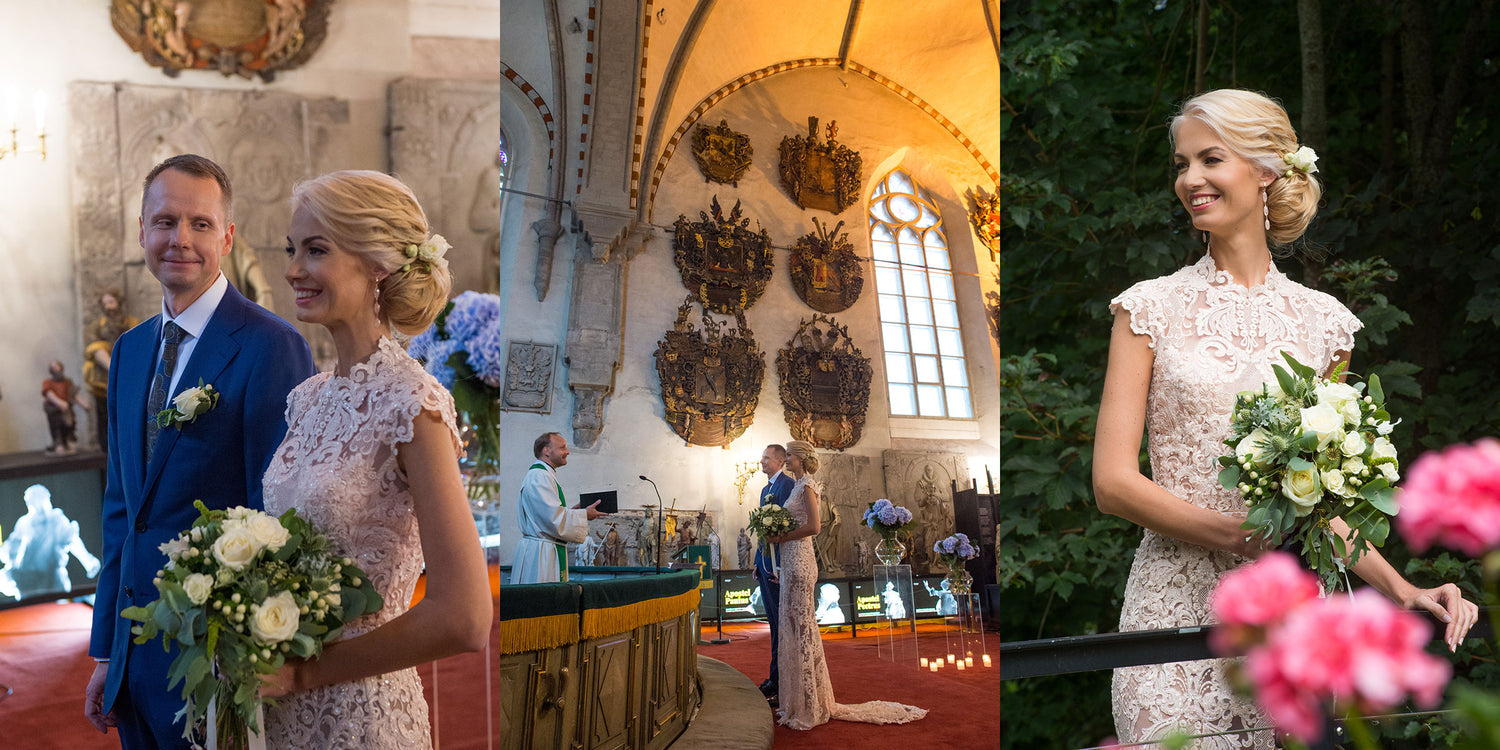 Splendid Pearl-Embellished Lace Bridal Dress with a Graceful Train
Unveil the allure of our elegant pearl-embellished lace bridal dress, adorned with a sweeping train. Behold Mari as she shines in her tailor-made, delicate lace bridal gown. This resplendent lace dress is enriched with thousands of beads and sequins meticulously placed across its intricate design. The dress showcases a train that adds an extra dimension of festivity and dramatic flair, promising an entrance to be remembered.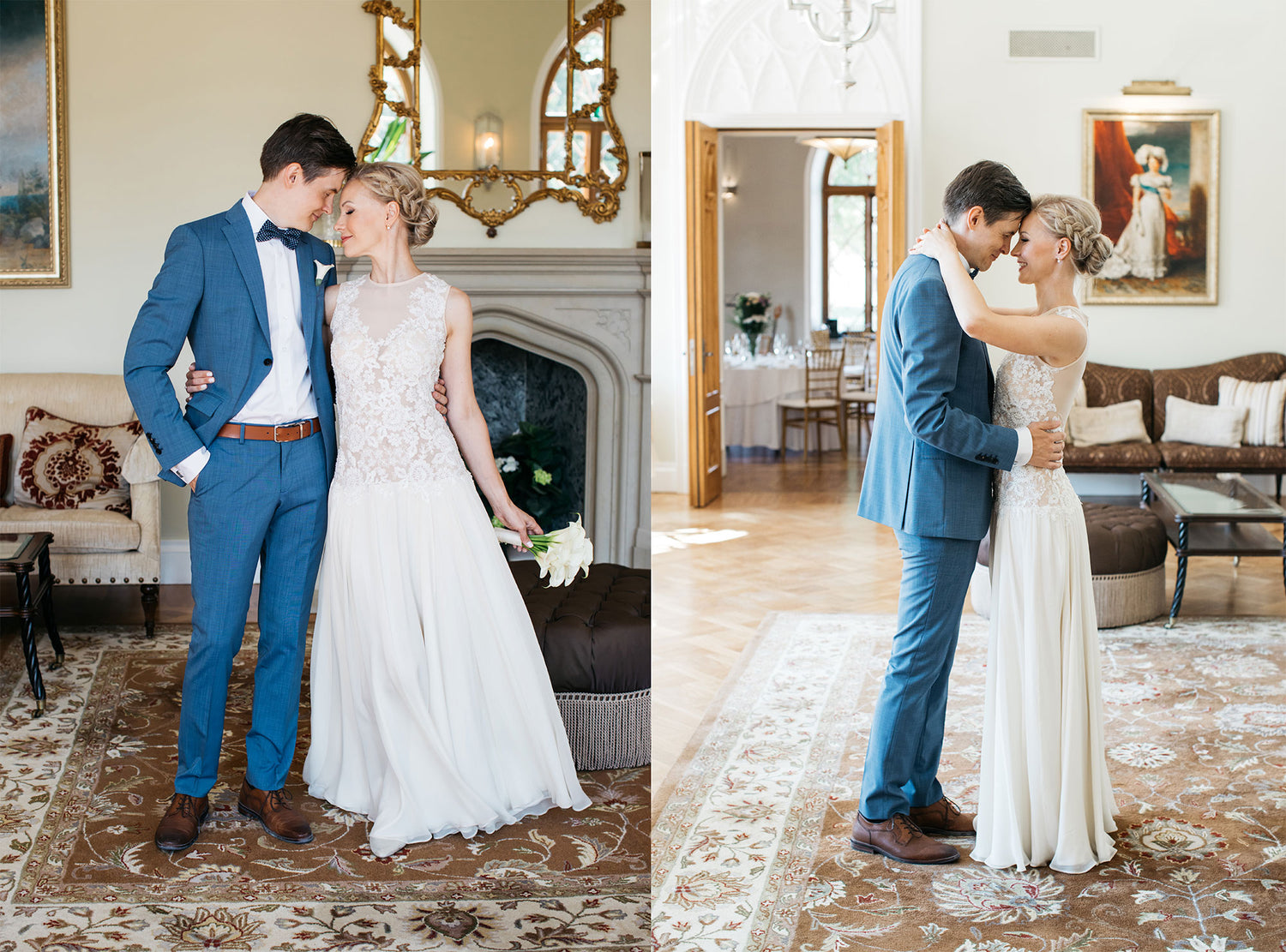 Exquisite Off-White Wedding Dress with Silken Skirt
Behold, a truly unique off-white wedding dress that combines a delicate lace bodice with a flowing silk chiffon skirt. Embracing the beauty of simplicity, this gown exemplifies the perfect choice for illuminating your inner and outer radiance of beauty and love.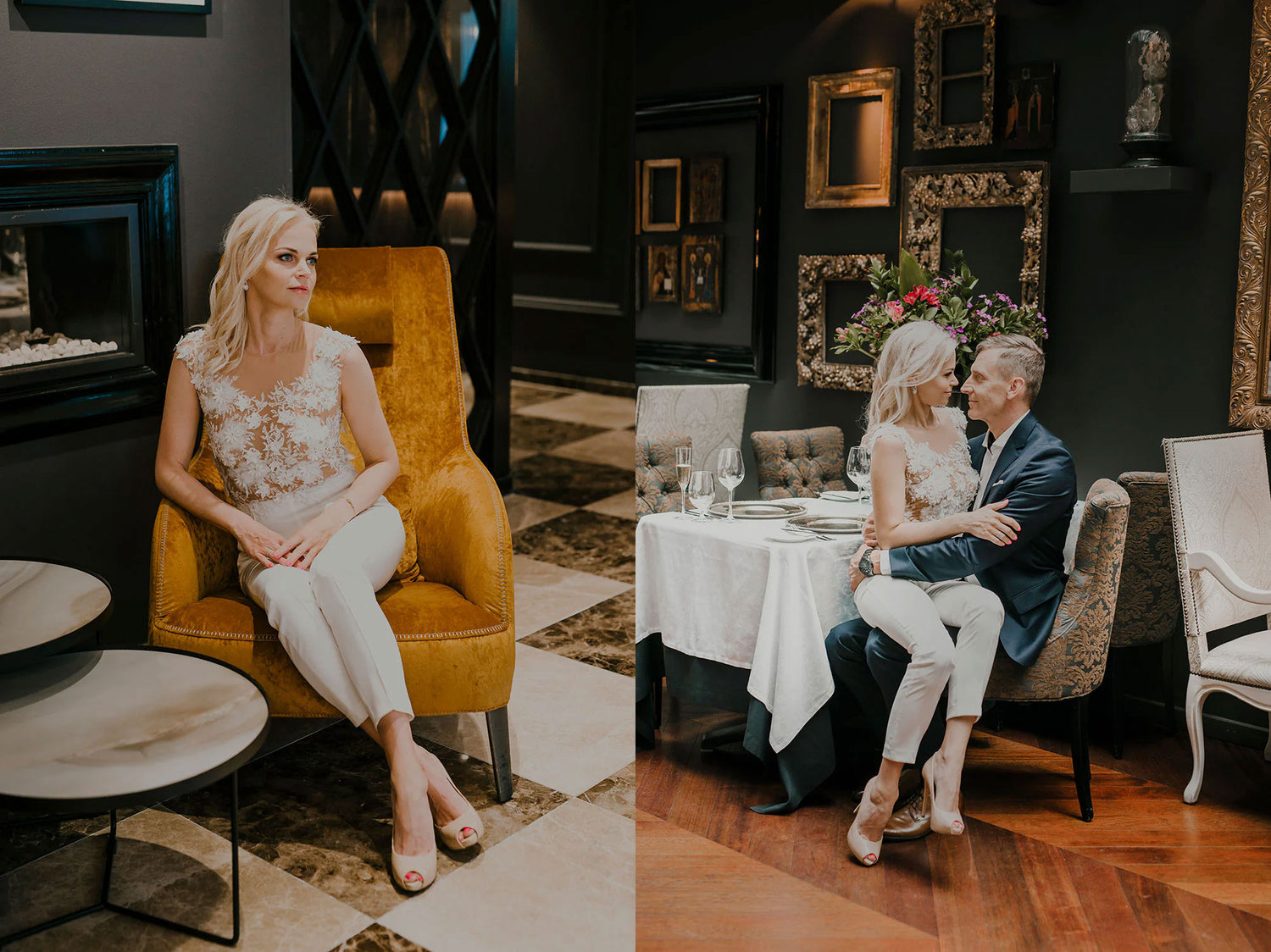 Kerlin Embraced Elegance: Crafting the Perfect Jumpsuit for Her Wedding
In a world where traditional gowns often take center stage at weddings, Kerlin stands out for her unique sense of originality and style. For Kerlin, we opted for a different approach and meticulously crafted a made-to-measure jumpsuit with an elegant lace and pearl-embellished bodice.

Yet, there's more to this choice than meets the eye. Beyond its aesthetic charm, Kerlin's jumpsuit symbolizes practical elegance. Its versatility extends the celebration beyond the wedding day; the jumpsuit seamlessly carries memories forward, ready to grace various occasions.

Kerlin's decision to don a jumpsuit not only challenges conventions but also reflects her distinctive taste and timeless vision. With every stitch, we ensured her ensemble embodies both the magic of the moment and the promise of a fashionable future.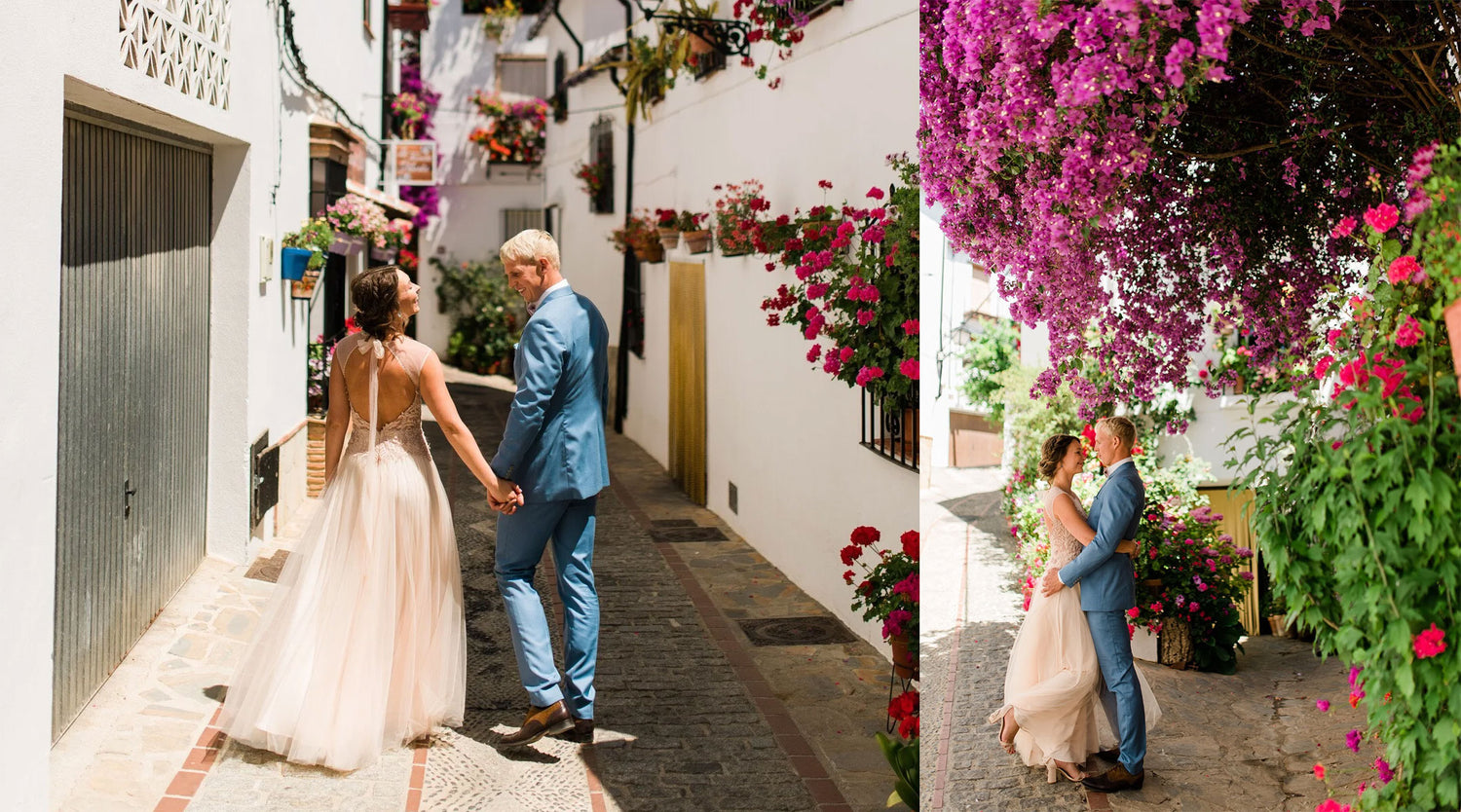 Embracing Simplicity: A Wedding in a Charming Italian Village
Sometimes, amidst the enchantment of a quaint little Italian town adorned with blooming flowers, the path of elegance is paved with simplicity. In such a setting, a gown like this takes the spotlight - its champagne-colored, pearl-embellished bodice harmoniously intertwined with a gentle tulle skirt.

As love weaves its own tale in this picturesque backdrop, there's an undeniable charm in opting for a gown that mirrors the understated beauty of the surroundings. This choice, like a whispered promise, enhances the magic of the moment, ensuring that amidst the blossoms and cobblestone streets, the true essence of the occasion shines brightly.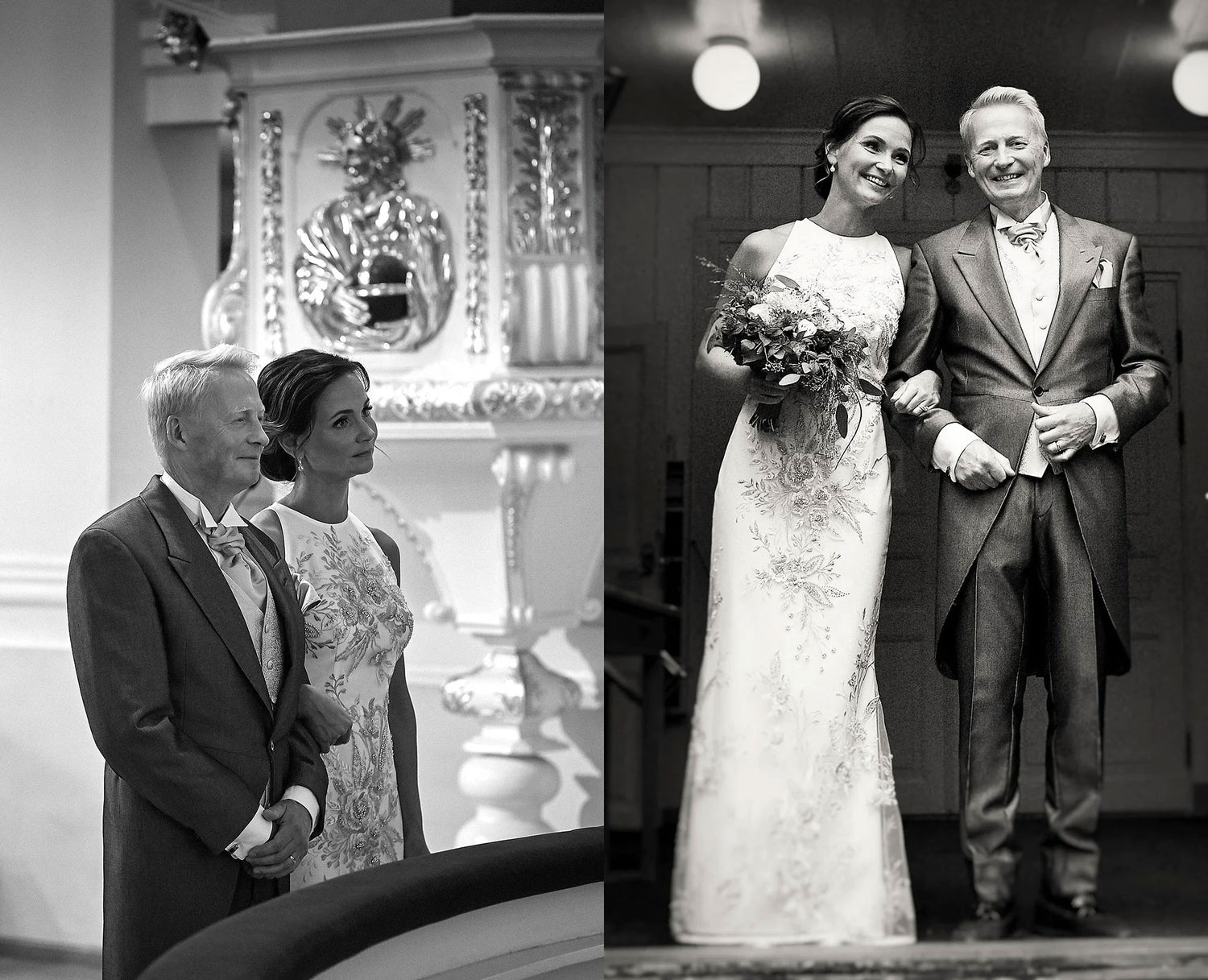 Timeless Elegance: A Pearl-Embellished Sheath Wedding Gown for a Stylish Finnish Couple
In the heart of a beautiful love story set in Finland, a tale of romance unfolds like a masterpiece. At the center of this enchanting narrative stands a gown that embodies both grace and sophistication - an exquisite pearl-embellished sheath silhouette, adorned with delicate floral lace.
Crafted with meticulous attention, this gown transcends the role of a mere wedding dress. Its allure lies not only in its aesthetic splendor but in its versatile hues - a symphony of shades that ensure its beauty radiates long after the wedding day.
Beside the bride, the groom emanates refined style in a timeless tailcoat, forging a perfect union that resonates with elegance. As the chapters of this Finnish couple's love story are written, the gown stands as a tribute to their enduring taste and the timeless elegance of their shared journey.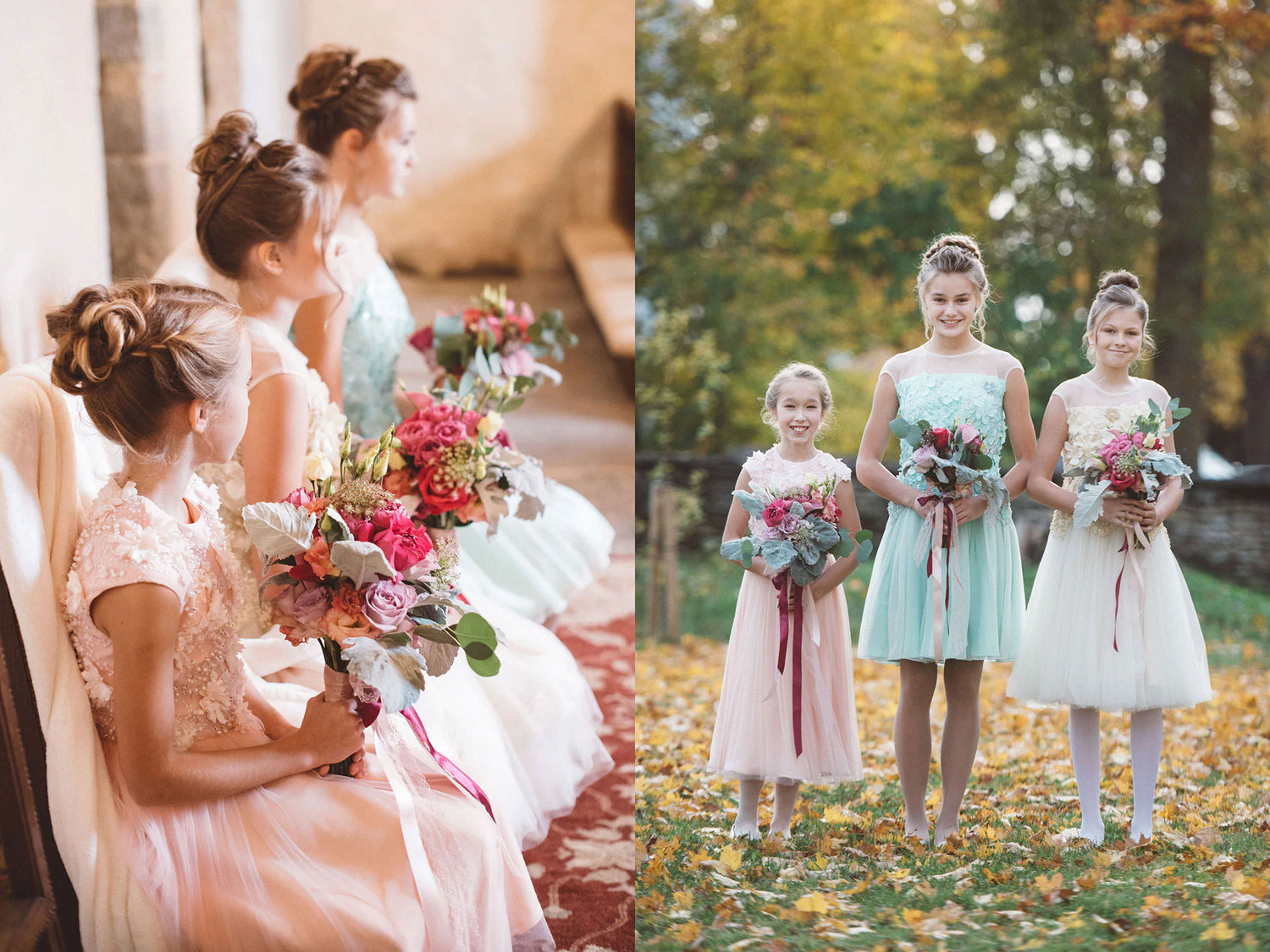 Graceful Little Bridesmaids: Pearls, Flowers and Tulle in a Charming Wedding
In the realm of weddings, the bride isn't the sole star. This sentiment was beautifully illustrated in our latest celebration, where beauty radiated not just from the main figure, but also from three young princesses – the delightful bridesmaids.
In this tale of love and unity, we had the privilege of designing exquisite dresses for these young companions. Each gown emerged as a unique masterpiece, a reflection of its individual vision, yet all tied together by the common thread of pearl and flower-embellished bodices that exuded timeless elegance.

Amidst the vows and festivities, these little bridesmaids infused the occasion with a sense of innocence and wonder. Their dresses, echoing the grace of the central narrative, allowed them to shine as elegant reflections of a story that embraces all who join in its journey.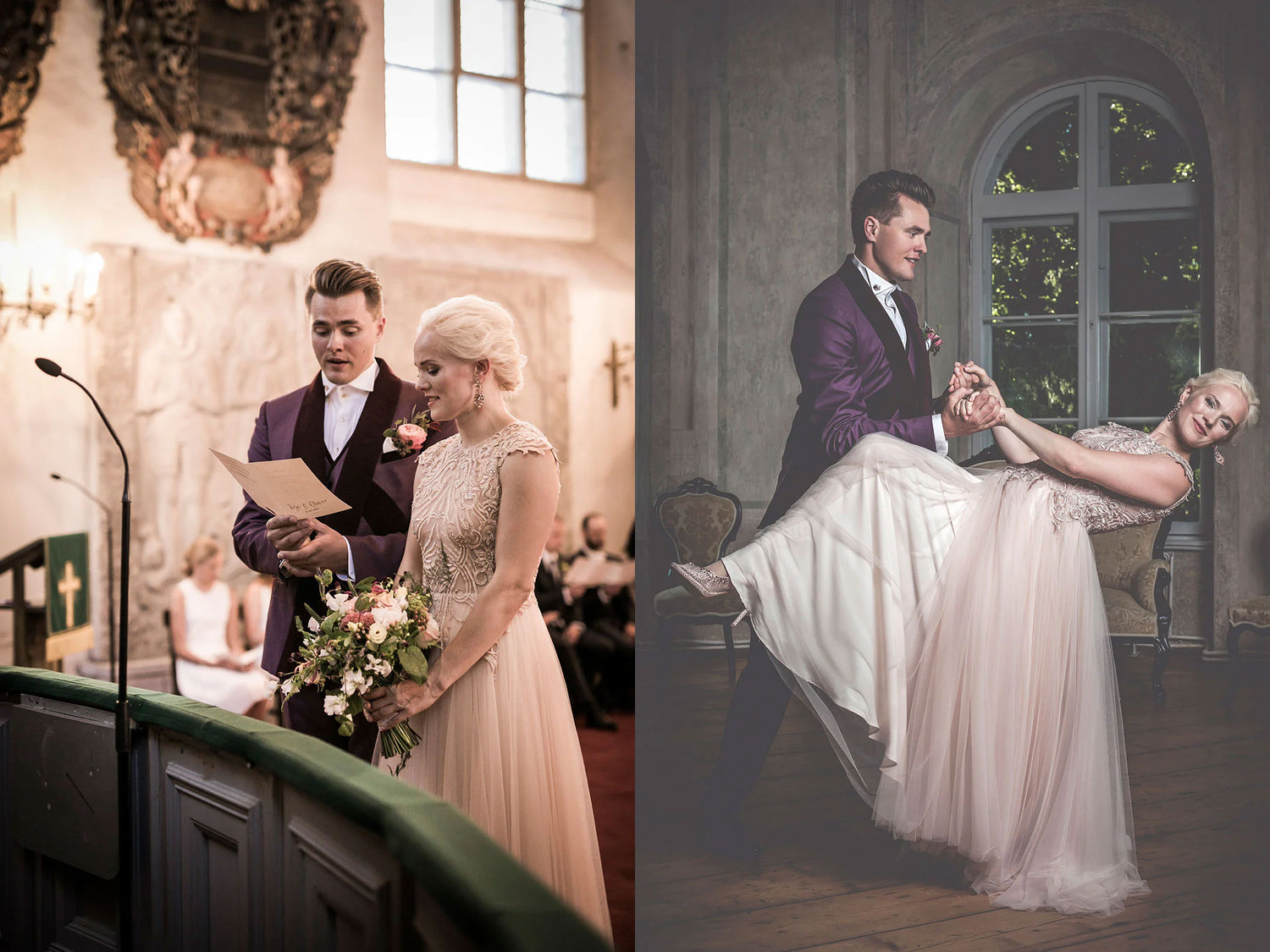 Captivating Cinderella: The Most Coveted Wedding Gown Ever
Imagine stepping into the allure of a fairy tale brought to life, embodied in our cherished Cinderella Wedding Gown. This exquisite creation stands as a tribute to dreams realized.

Can you see yourself immersing in a realm where fairy tales become reality – where the enchanting story of Cinderella unfolds anew? And fear not the striking of midnight; your gown remains resplendent, and your beloved stays far from any pumpkin transformation.

Amidst the beauty of your gown, your story continues to unfold with every step – a modern fairy tale of love, grace, and the promise of a future as timeless as the storybooks.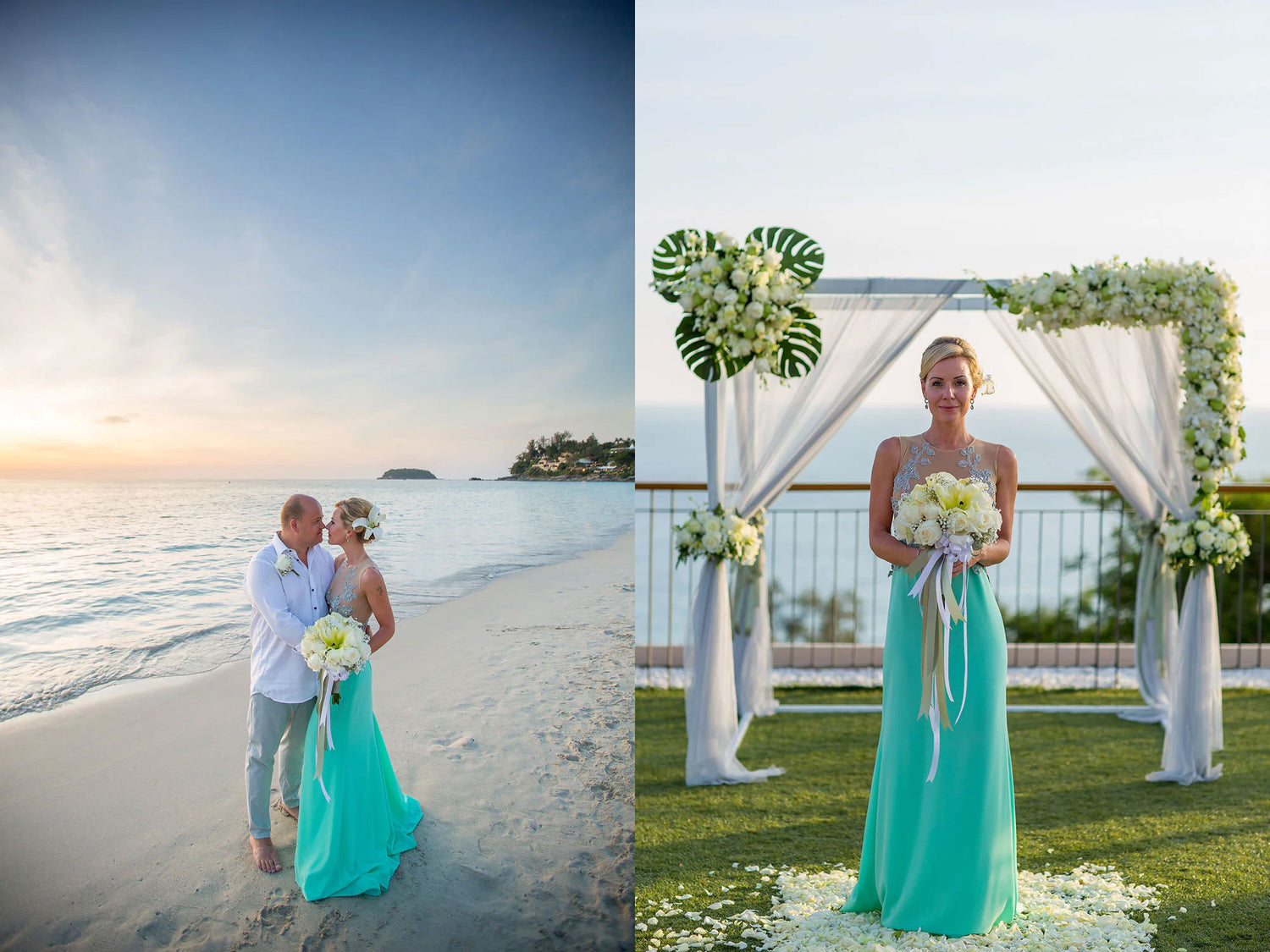 Wedding in Thailand: Sometimes dreams come true in a faraway land
Embarking on a journey to a faraway land, Liis discovered that dreams do come true. Against the backdrop of Thailand's breathtaking beach, she orchestrated a wedding that encapsulated romance and beauty in their purest forms.
Liis' choice of attire broke away from convention, mirroring her adventurous spirit. The gown she donned was a masterpiece of individuality, featuring a silvery lace top paired with a flowing mint green skirt. This unconventional pairing radiated a sense of enchantment against the beach's scenic beauty.
As vows were exchanged and love celebrated, Liis' wedding became a tapestry of memories woven with the threads of romance and the exotic allure of Thailand. Amidst the sun-kissed shores and gentle waves, dreams transformed into reality, etching a love story in a place where the heart finds its home.

Just Married!
Karin and Peeter had a romentic beach theme for their celebration. Karin donned our classic bridal look, a pearl-embellished lace dress with a silk skirt. Peeter's blouse echoed the same lace, creating a harmonious blend. This choice bound their love story, a testament to shared elegance and unity.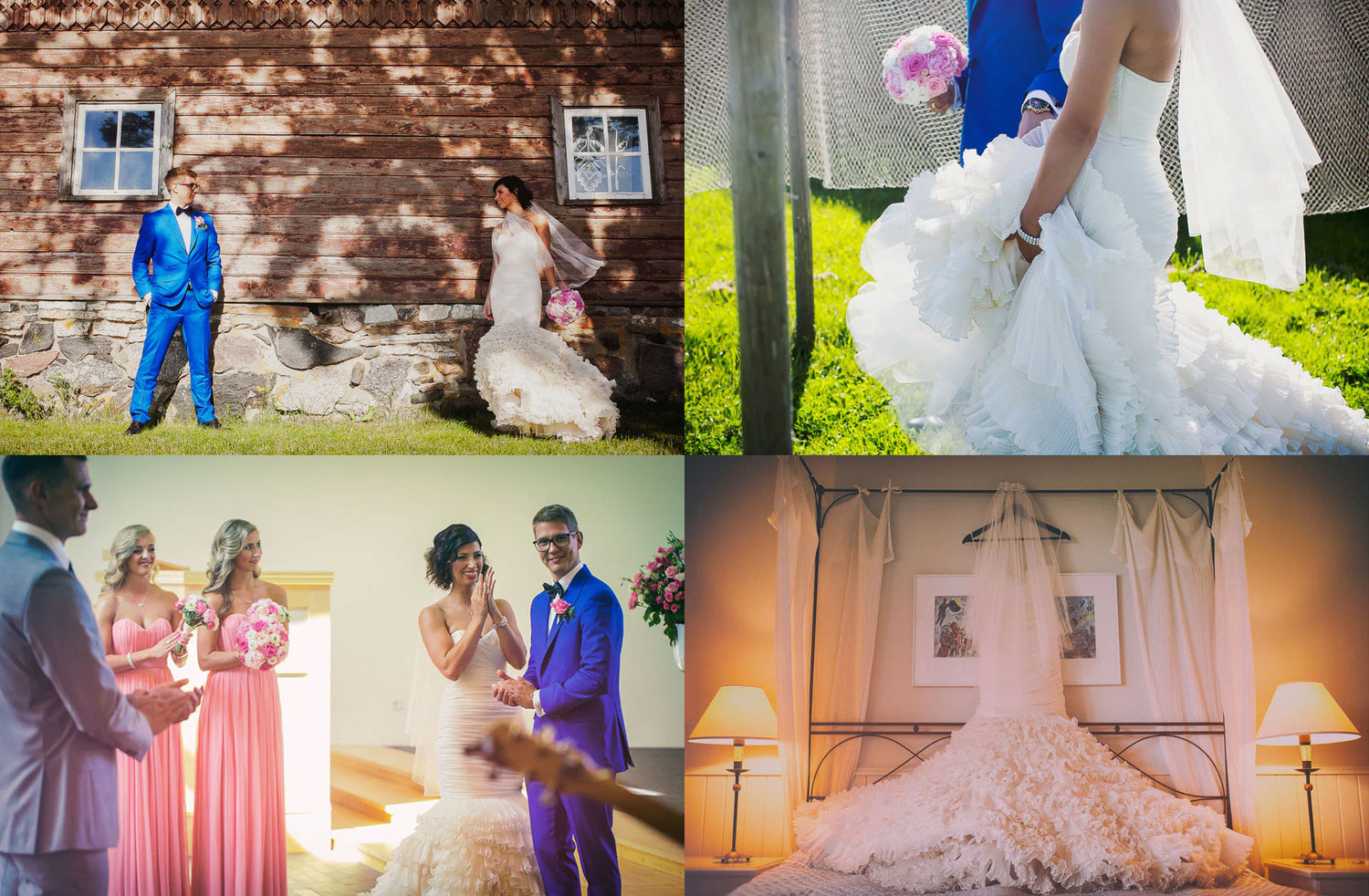 Elegance in Every Detail: Marie's Unforgettable Wedding
In the grand tapestry of weddings, Marie's stood out as a testament to perfection in every detail. Her gown, a masterpiece in its own right, embraced a mermaid-style silhouette crafted from hundreds of meters of meticulously pleated silk. This creation was more than just a dress; it was a symphony of elegance that highlighted the essence of the day.

Marie's vision extended to her bridesmaids, who adorned pink silk dresses that resonated with harmony and beauty. The coordination of colors and the essence of unity transformed the entire celebration into a canvas of grace.

Marie's wedding was a crescendo of love and style, where every element wove together a story of sophistication and unity.

Looking for the Wedding Gown of Your Dreams?
Our wedding gown collections offer options for every body type, theme, and venue. Dresses can be customized, tailored to measurements, or even designed from scratch. Designer meetings and fittings can be arranged in both Paris and Tallinn.