Captivating Love on Naples: Gea and Valerio's Timeless Wedding Tale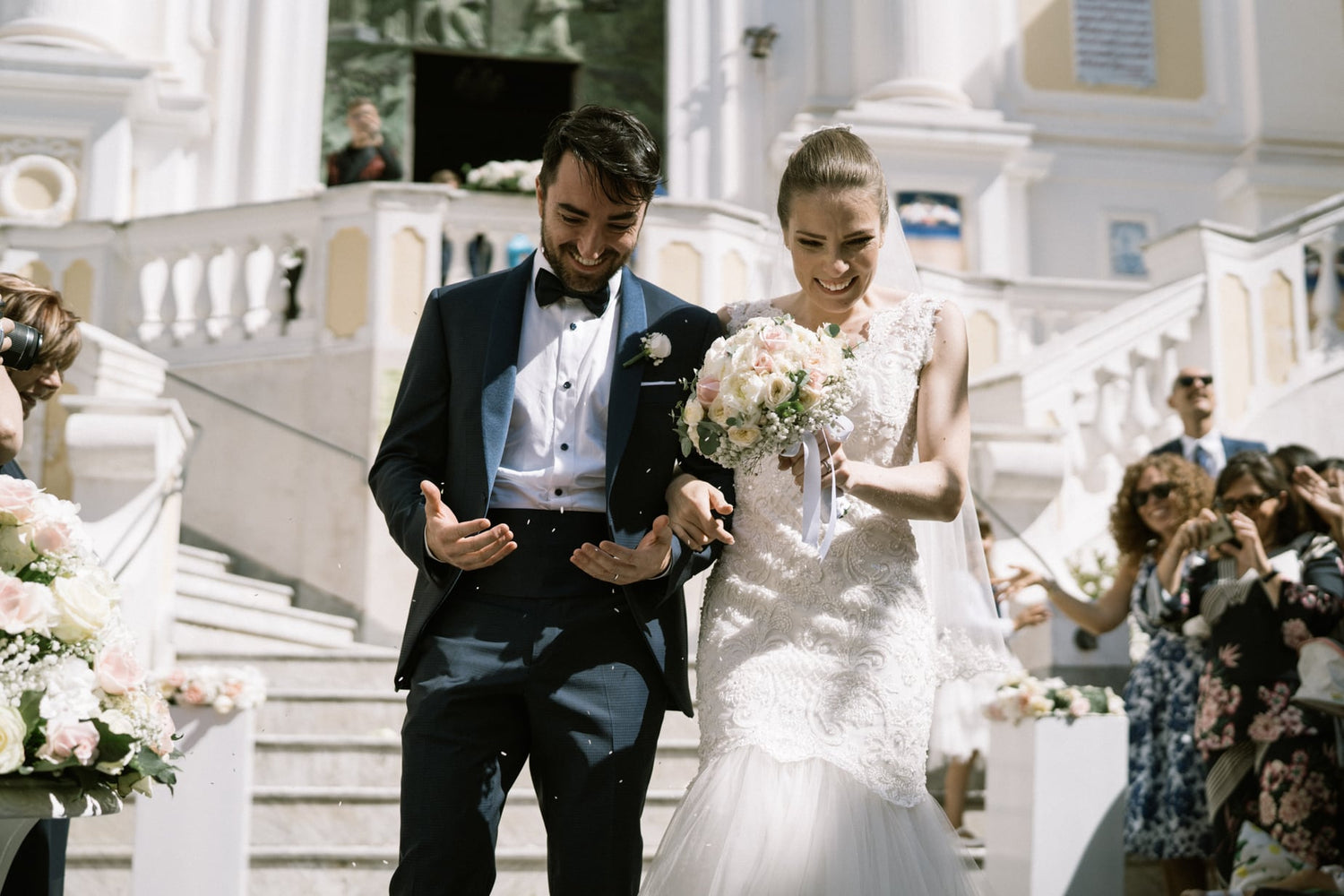 Months of preparation, anticipation, contemplation, and bursts of emotion led to this long-awaited day. Every detail of the dress meticulously refined, nimble hands at the venue arranging the final touches, and the entire family pitching in to prepare the bride for her journey into marriage.

Inspired by our regal Catherine gown from the Royale collection, Gea's wedding dress is a masterpiece tailored to perfection. The elegant mermaid silhouette features a pearl-embellished lace bodice, an open back framed by delicate lace, and a soft tulle skirt with a graceful train. Crafted to Gea's exact measurements, the gown underwent several fittings to ensure a flawless fit.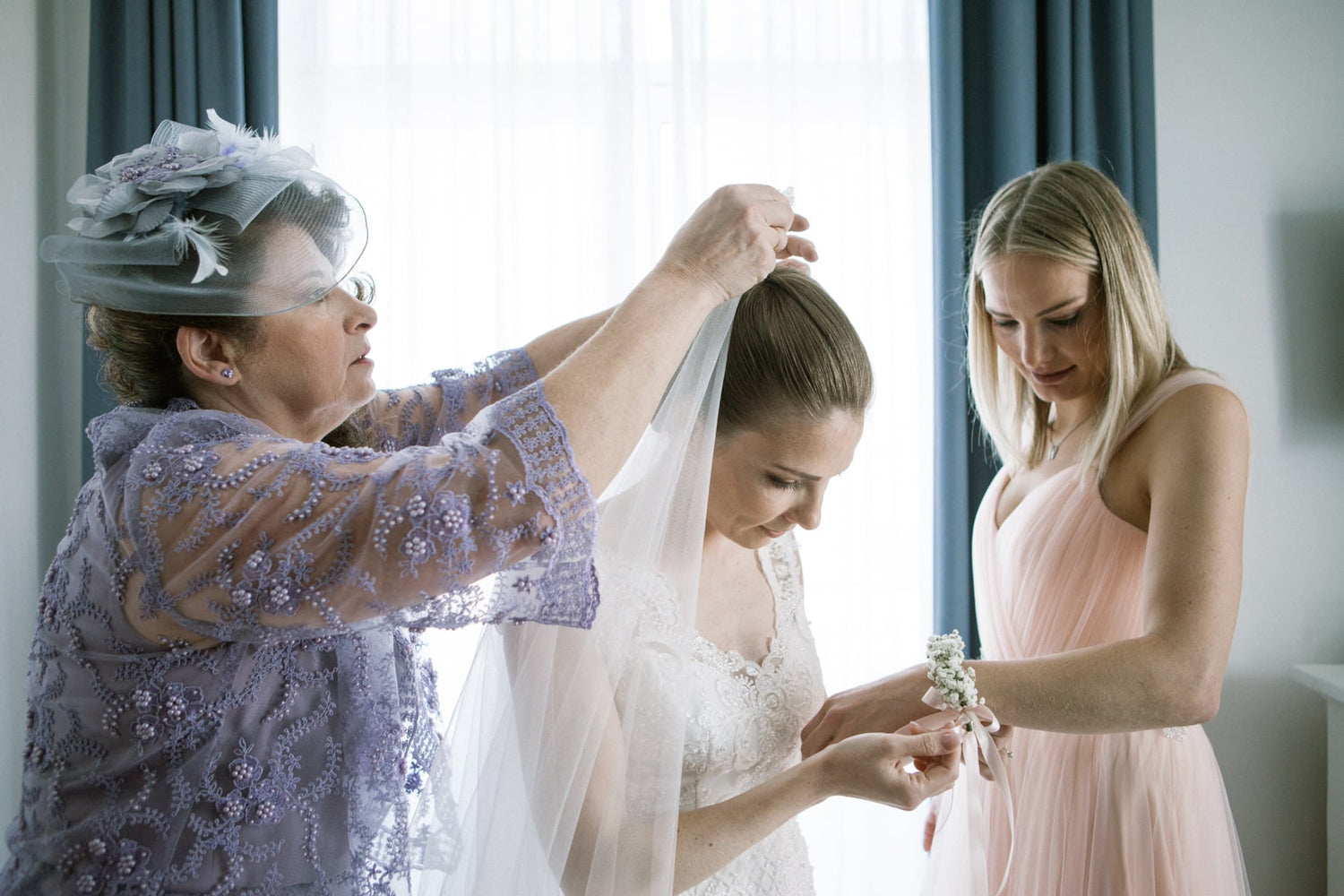 A Family Affair
Mother Riwa and twin sister Diana are busy getting the bride ready to walk down the aisle. The veil needs adjusting, the skirt's train needs smoothing, and the bride's ever-heightening emotions require a moment of calm before the ceremony, to ensure her makeup remains intact.
Diana's beautiful dress was also created in our fashion house. Her delicate blush pink silk chiffon dress is slim and elegant, providing a refreshing touch amidst Amalfi's warm climate.
Mother Riwa was wearing a dress she made herself; her lavender-colored cocktail dress adorned with pearls exudes elegance, perfectly suiting her demeanor.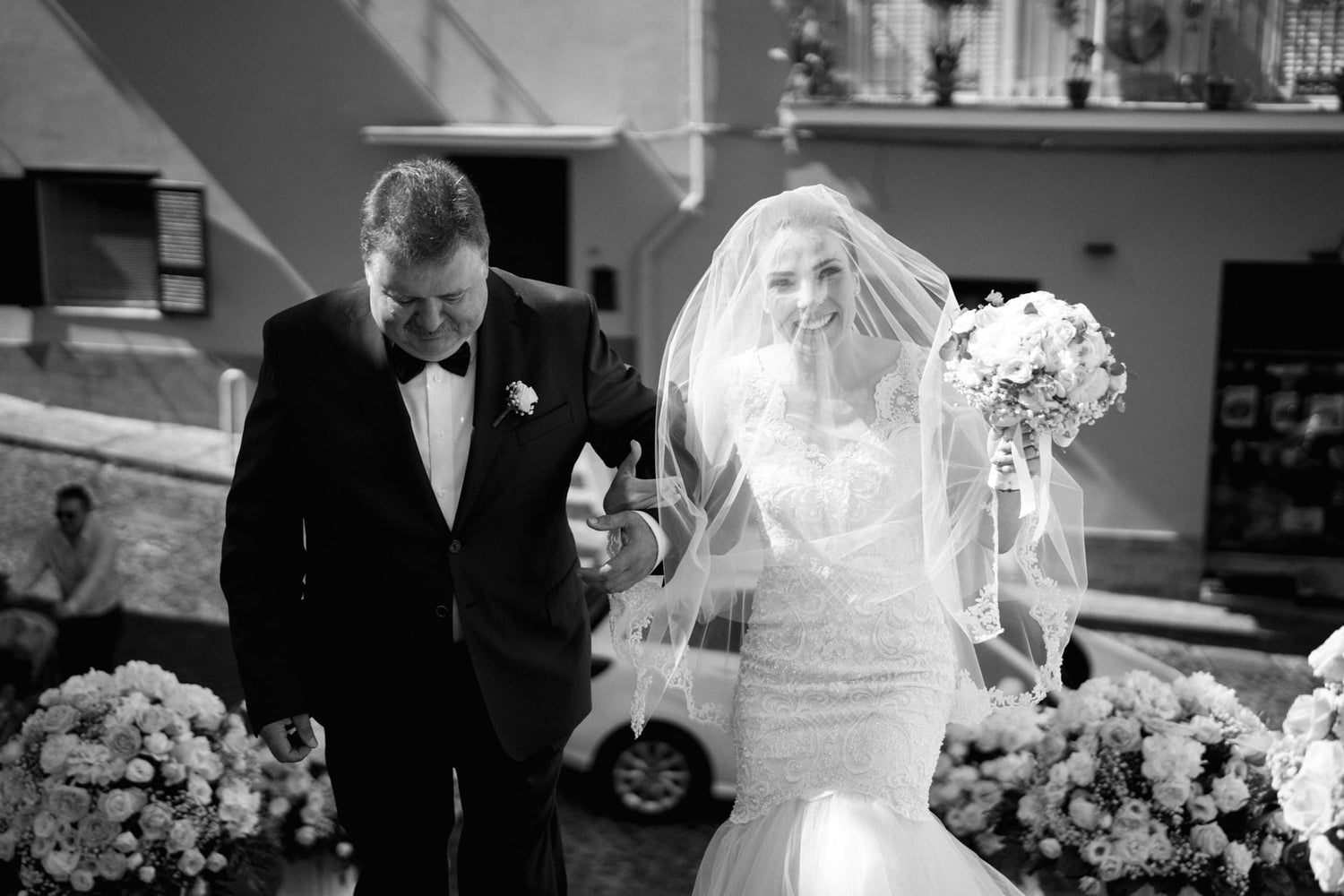 Stepfather Evald's Strong Arm Leads to the Altar
The familiar wedding march plays, and with the world's most radiant smile, the bride walks arm-in-arm with Uncle Albert, taking her final steps as a maiden. Groom Valerio stands at the altar, impeccably groomed and poised, awaiting her arrival.
All this beauty unfolds in the Church of Sant'Anna in Bacoli, near Naples, while the wedding party was taking place in the enchanting Capri Island.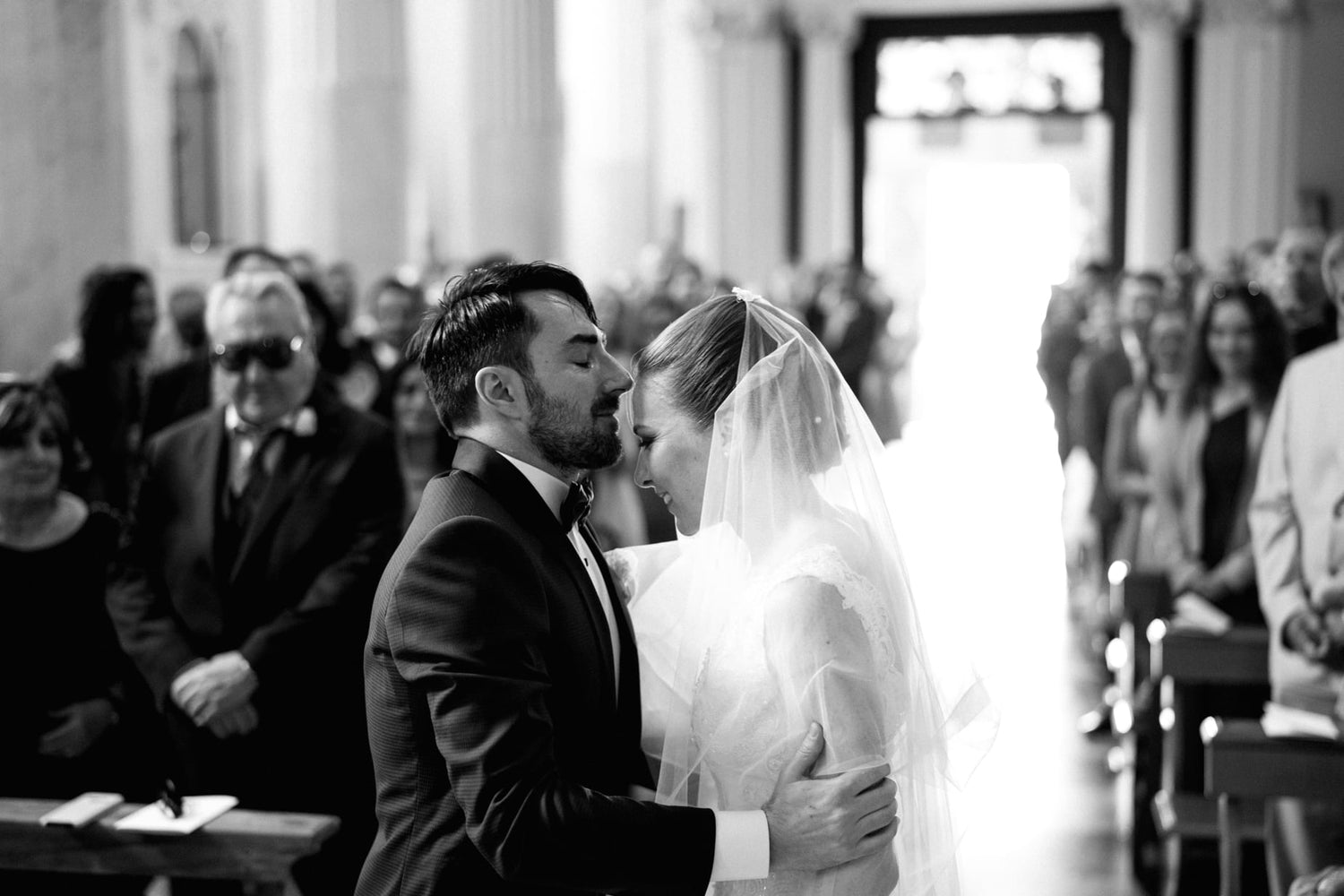 A Touching Ceremony
It's hard not to shed a tear at this ceremony. Gea shines in her exquisite gown, loving groom Valerio by her side, and all their dear ones holding their breath in anticipation.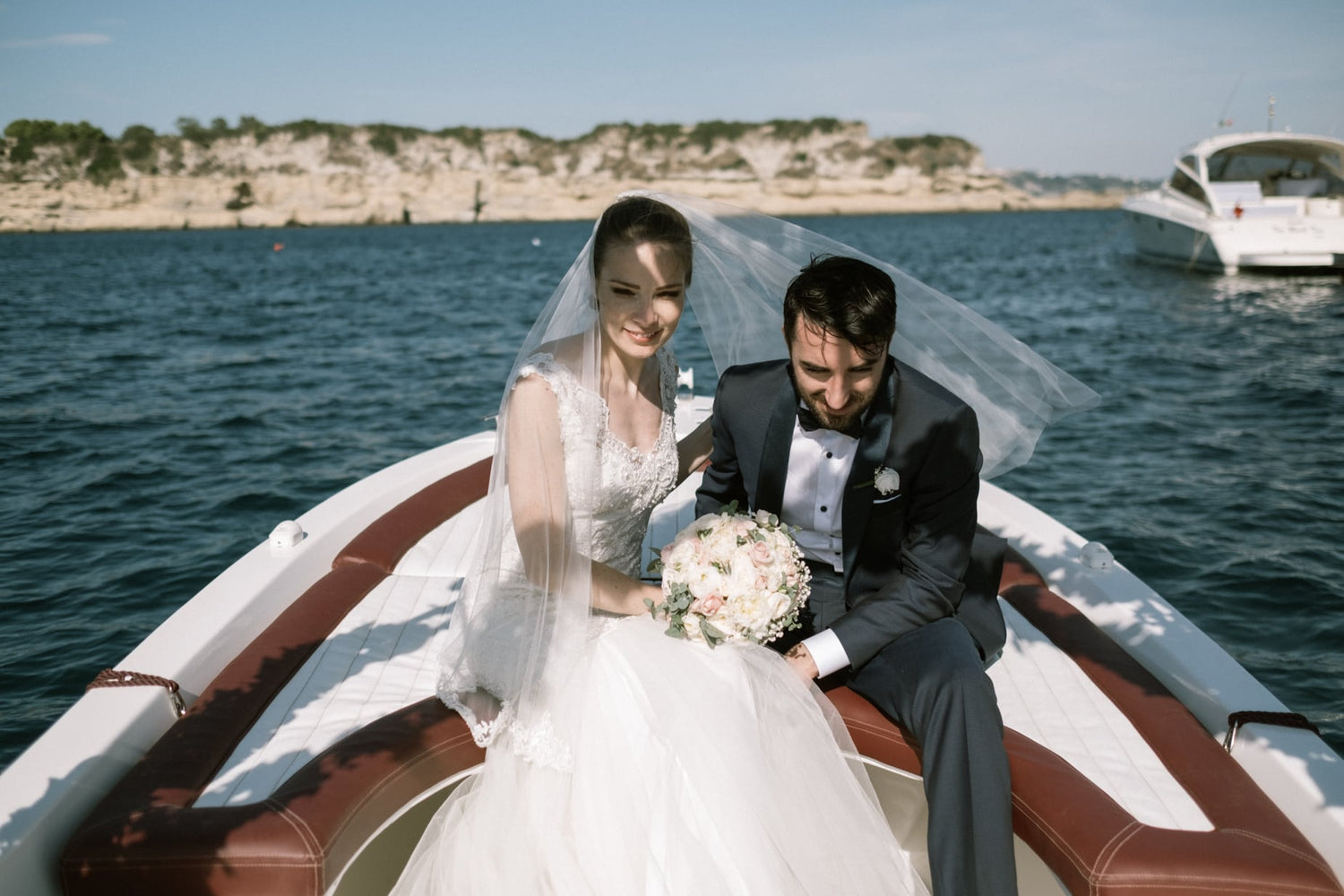 Navigating Marriage's Stormy Seas Together
Often the phrase "tying the knot" is used to describe marriage, but for Gea and Valerio, it's quite the opposite. Knowing Gea's temperament, they are instead untying the rope and embarking on an adventurous journey across the stormy sea of marriage, where winds may tug at sails and waves may challenge their course.
Having witnessed Gea and Valerio's union myself, I am confident that this vessel will withstand even the fiercest storm, steering through tumultuous waters without capsizing or crashing upon the rocks.
11.08.2019, Florence - Liina Stein.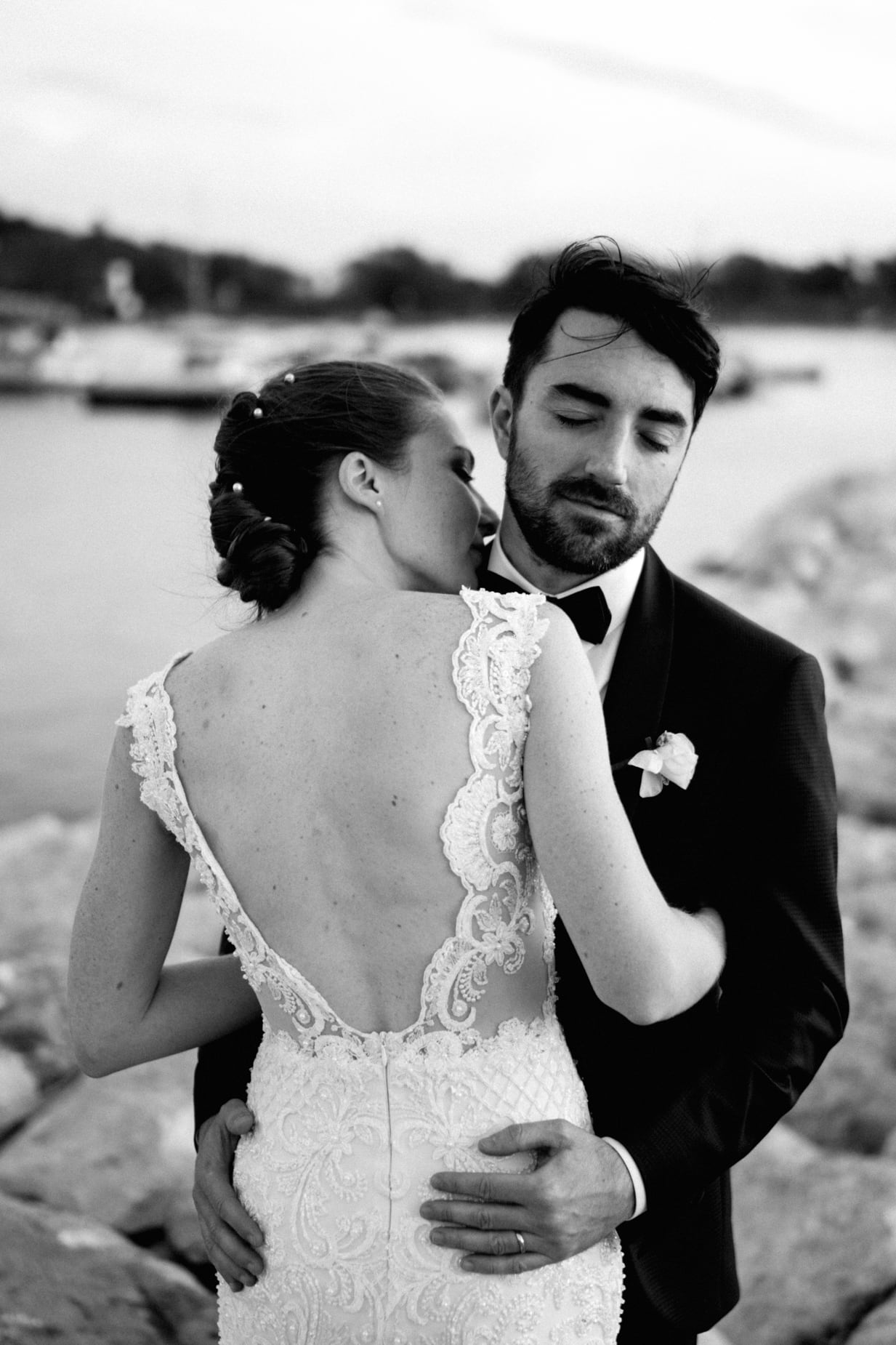 Elegance in the Silhouette of Catherine
The most distinctive feature of this ornate lace mermaid wedding gown is the back. Framed by lace-edged openings and sheer details, it exudes an air of elegance, luxury, and romance.
To achieve this, the dress must fit the wearer flawlessly - from the length of the body to every other detail, tailored and adjusted during dress fittings to ensure a perfect harmony.
Our beautiful brides